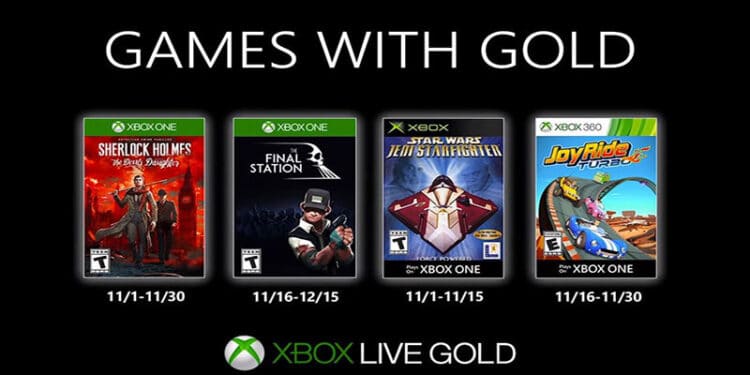 We already have the new ones games available from November 2019 with Xbox Live Gold subscription. In addition, until October 31, you can download for free the games "Friday the 13th: The Game", "Ninja Gaiden 3: Razor's Edge" and "Tembo the Badass Elephant" with Xbox Live Gold.
Sherlock Holmes: The Devil's Daughter (available November 1st – 30th on Xbox One). Live an amazing adventure with a unique game mechanic who combines research, action and exploration into one thriller passionate that will test your nerves and your intelligence. Take the skin of the great detective and pursue evil through London's darkest corners and the human soul …
The Final Station (available November 16 to December 15 on Xbox One). Travel by train through a morbid world. Take care of your passengers, keep the train running and make sure it arrives at the next station. Take a walk through lots of infected people at each station and explore for supplies and supervisors.
Star Wars: Jedi Starfighter (Available November 1st – 15th on Xbox One and Xbox 360). The galaxy is in a state of suspense as the events of Star Wars: Episode II unfold. Mace Windu assigns one of the Council's best Jedi, Adi Gallia, to investigate the disruption of the Karthakk system, so there is a separatist movement threatening extensions.
Joy Ride Turbo (available November 16-30 on Xbox One and Xbox 360). Arcade racing game full of acrobatics, emotions, speed and chaos. Assume your skills in the new acrobatic park, or aim to unlock cars and gain additional benefits. There are no limits to the fools who can take the cabo.